Automatic profit calculation with transparent cost breakdown
Region
Saint-Petersburg, Russia
Brief
InProfit is an internal project aimed to improve the accuracy of profitability calculations.
The platform allows to enter revenue streams and expenses, break them down into different projects, and track projects' and companies' financial performance.
Key features
Dashboard with all projects' financials.
Employees profiles and their performance.
Tasks' management tool for the team.
Projects' status and progress at a glance.
Opportunity
Previously, all financial operations were done in Excel. It would take a considerable amount of project managers' time to record all team members' activity, and accurately reflect the costs.
Having expertise in design and IT, we decided to create a service that would make bookkeeping and financial reporting much more transparent.
Process
Since we were creating a new service, we designed and developed everything from scratch. As a part of market research, we did a research on existing accounting solutions. To our surprise, we could not find any alternative for the inProfit.
We determined the target audience, and the main user scenarios. With the help of Mindmap creation, we identified a set of software functions, described user flows, and defined the project MVP.
Our designer drew mock ups of each page, created a UI Kit, and layouts. Layouts were designed according to the UI Kit.
Once the user flows and layouts were defined, our developers started building the back-end and front-end. The leveraged the capabilities of GoLang and JavaScript to deliver a functional. robust service.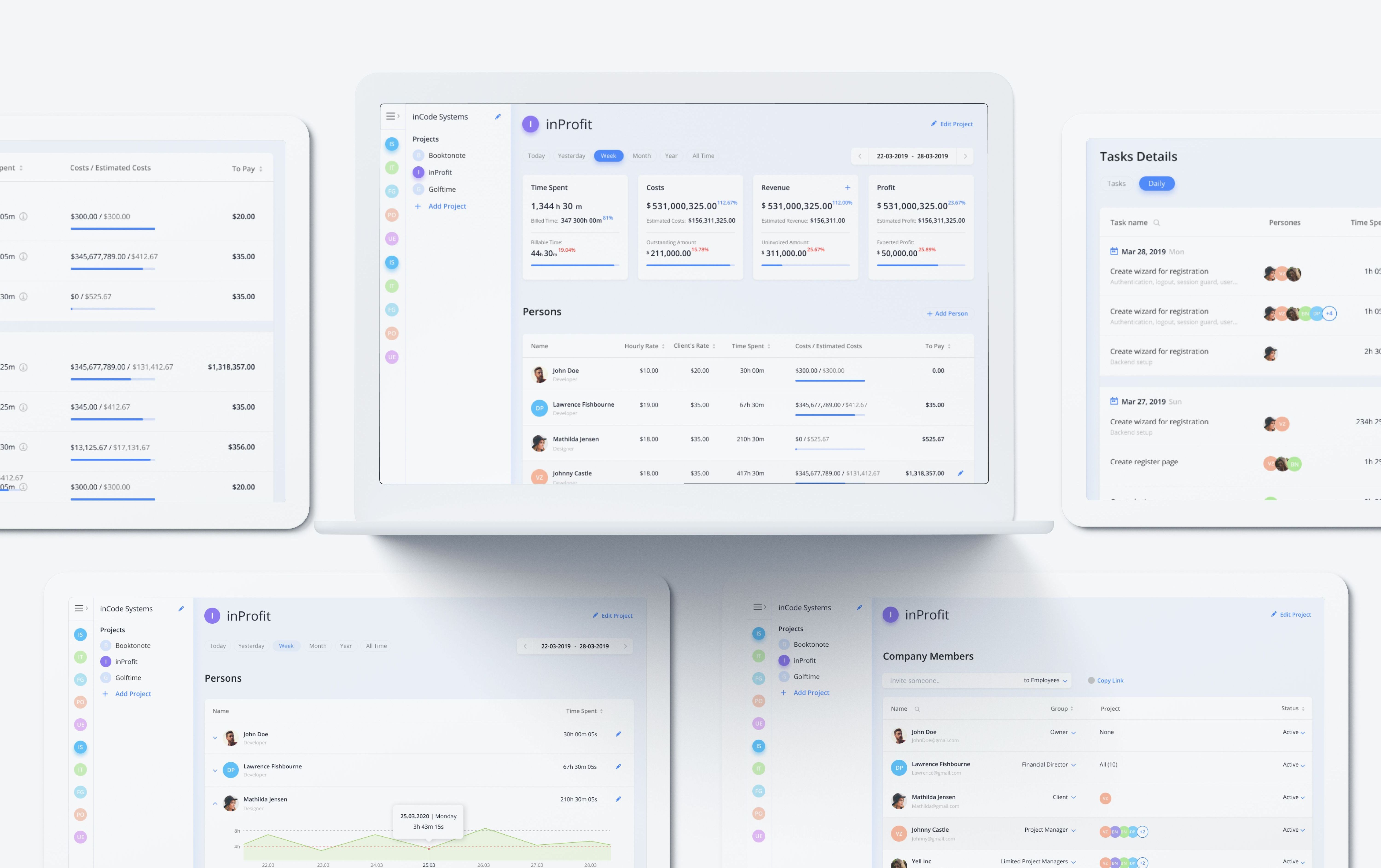 Solution
Six months after the project initiation, the MVP was ready.
The result was a user-friendly accounting platform for project managers to track the financial performance of their projects.
Each employee involved in the project has their own dashboard which allows to track employees' performance. The dashboard presents the overall overview of employees' time spent on the project, salary, and the company's profit brought by this employee.
You can also see a list of tasks assigned to the person, the difference between real and estimated time, and the cost devoted to each task.
inProfit has become an indispensable tool for project managers of inCode Systems for financial reporting and bookkeeping.
Team
Denis Parfenov — Project Manager.
Vladislav Zubairov — Back-end Developer.
Anton Vizir — Front-end Developer.
Katya Sirotkina — UX/UI Designer.
Hire Us
Let's start working on your project
inCode Ltd.
London, United Kingdom
Palliser House Second Floor,
Palliser Road, London, England, W14 9EB
Contact