How to set up your online store
Learn which steps you need to take to start your online shop. Use these tips to pick a platform, a domain name, a hosting and complete other tasks.
As worldwide ecommerce sales are expected to grow up to $6.3 trillion in 2023, more entrepreneurs are going to join this prosperous field. Based on our Ecommerce web development experience, we prepared some tips on how to set up your online store.
Follow these steps:
Choose a platform
There are several platforms available for setting up an online store, among which the most popular are Shopify, WooCommerce, and BigCommerce. Consider these factors when selecting a platform for your online store:
Cost: Some platforms charge a monthly or annual fee, while others offer a free basic plan with paid upgrades.
Ease of use: Look for a platform that is user-friendly and easy to navigate, both for you as the store owner and for your customers.
Payment options: Choose a platform that offers a variety of payment options, such as credit card, PayPal, and alternatives.
Customization: Consider whether the platform allows for customization of the store's appearance and functionality. You should add branding.
Customer support: Search for a platform with prompt customer support, in case you need help with any issues that may arise.
Integration with other tools: Search for the platform which can easily integrate with email marketing or accounting software and other tools you are already using.
Security Measures: for an ecommerce project, it's especially important to check if the platform has adequate security measures to protect your customer's personal and financial information.
SEO: Consider whether the platform is optimized for search engines. It plays a big part in improving your online store's visibility and driving more traffic to your website.
Select a domain name
Select a domain name that is closely related to your business and easy to remember.
Use these tips to find a better choice:
Make it memorable: Think over several options which first come to your mind. Keep it simple, and give your preferences to the name which can be remembered and spelled easily. Try not to use numbers or hyphens.
Use keywords: If possible, pick a domain name which includes relevant keywords. It will help your store to get ranked by search engines more easily and help customers find your company.
Opt for a shorter domain name, so it would be simple to recall and type.
Consider your brand: Prefer a domain name that displays your brand and is consistent with your branding efforts.
Check availability: Use a domain name checker tool to see if the name is available and not already in use by another company. Sometimes you can win traffic from similarities with other companies, but in most cases it is better to stick to something unique to not mislead users and potential customers.
Once you've chosen a domain name, be sure to register it and set up your online store as soon as possible to secure it for your business.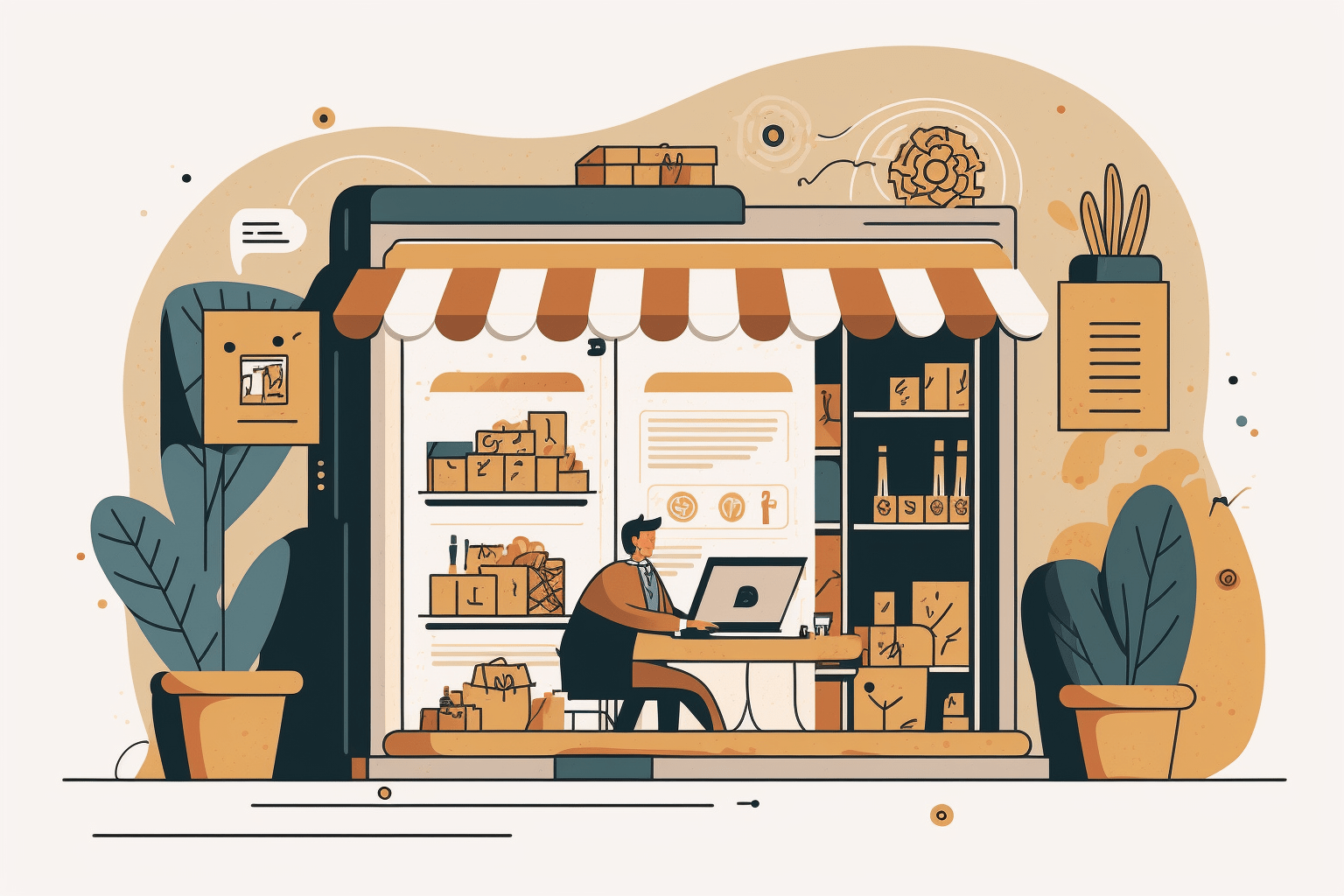 Set up hosting
You will need a hosting service to store and serve the files for your online store. There are many hosting options available, such as shared hosting, dedicated hosting, and cloud hosting.
To set up hosting for an online store, choose a hosting provider and sign up for a plan. Consider these factors:
E-commerce specific features: Look for a hosting provider that offers features specific to e-commerce stores, such as SSL certificates and support for payment gateways.
Scalability: Choose a hosting provider that can grow with your store. If you expect your store to experience a lot of traffic or if you plan on adding a lot of products, you will need a hosting provider that can handle the increased demand.
Security: Make sure the hosting provider you choose has strong security measures to protect your store and your customers' information.
Customer support: Look for a hosting provider with prompt customer support that can help you with any issues you may encounter while setting up your store.
Once you have chosen a hosting provider, follow their instructions for setting up your store. This may involve purchasing a domain name, uploading your store's files, and configuring your store's settings.
Pick a payment gateway
A payment gateway grants you to receive payments from customers. Most commonly used are PayPal, Stripe, and Square.
Look through these points, considering which payment gateway to use:
Fees: Different payment gateways charge different fees for their services. Make sure to compare and choose the one that offers the best value for your business.
Payment options: Some payment gateways offer a wider range of payment options, such as credit or debit card, and alternative payment methods. Choose a payment gateway that includes the payment options that your customers prefer.
Security: Payment security is a top priority for any ecommerce business.
Integration: Ensure the payment gateway you choose can be easily integrated with your ecommerce platform and your other business systems.
Customer support: Look for a payment gateway that has excellent customer support in case you need help with any issues or questions.
By considering these factors, you can choose a payment gateway that meets the needs of your ecommerce business and your customers.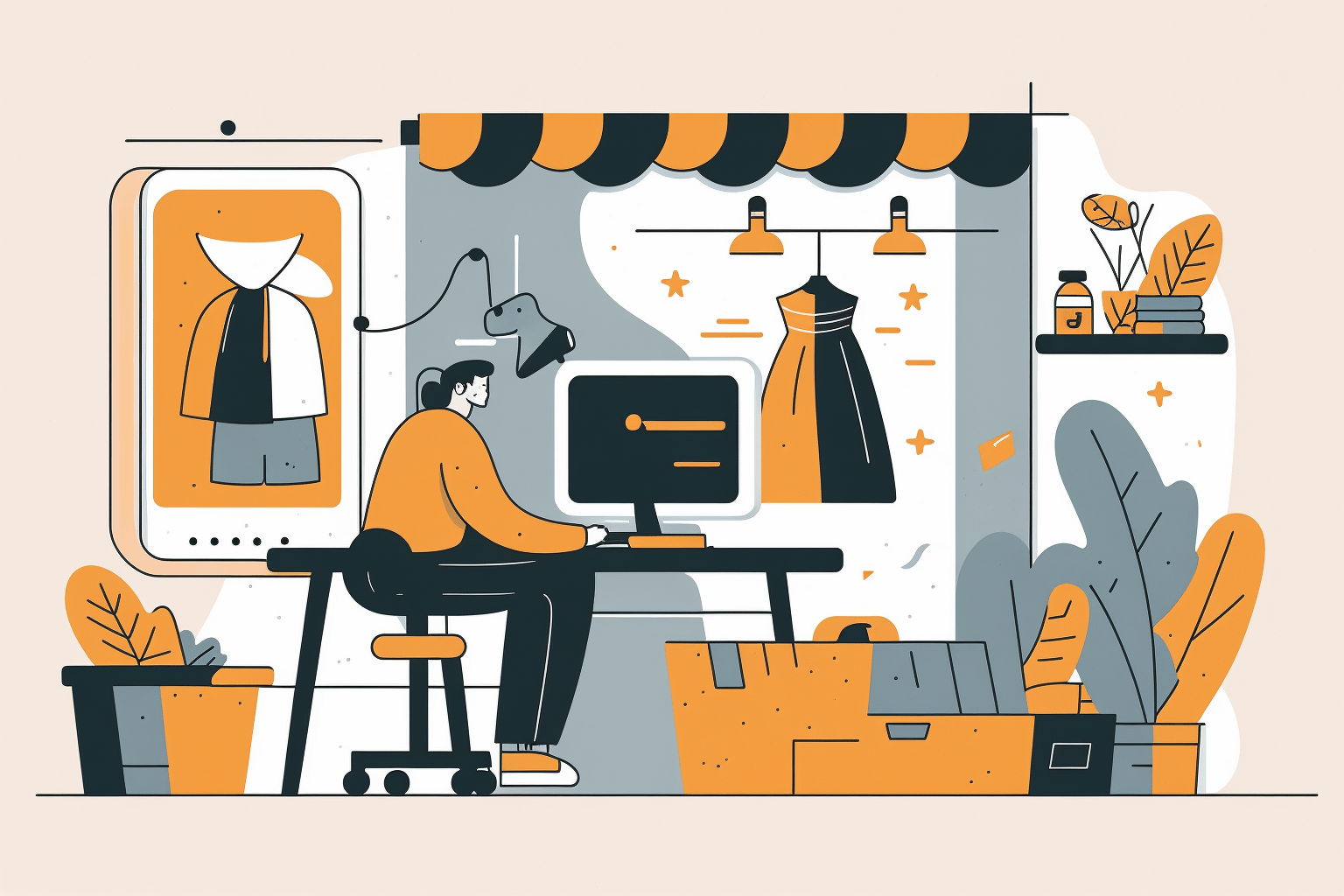 Design your store
Many platforms provide entrepreneurs with ready-made templates. There should also be a bunch of tools allowing you to create a visually appealing and easy-to-navigate store.
Make sure you completed these steps before launching:
Identify your brand's style and aesthetic: Consider the overall look and feel that you want to convey to your customers. Create a mood board with expiring examples and make a list of 'do's and don'ts' for your future design. This will help guide the design choices you make.
Choose a color scheme: Select a few colors that reflect your brand's style and aesthetic. Use a tool like Adobe Color to help you create a cohesive color palette.
Select a font: Choose a font that is easy to read and fits with the overall style of your store. Keep in mind that you will likely want to use different font sizes and styles for different types of text, such as headings and body copy. Don't forget to go through the terms of use and check if you should buy a license to use a font for commercial purposes. There are also some stocks and services which provide license-free fonts.
Add visuals: Use high-quality images and graphics to make your store more visually appealing. These could include product photos, graphics that highlight your brand's values or mission, and images that create a cohesive look and feel.
Organize your layout: Determine how you want to organize the different elements on your store's pages. For example, you might want to have a menu bar at the top, a banner image at the top of the page, and product categories listed down the left side.
Select a theme or develop your own. Choose a theme that aligns with your brand and the type of products or services you are selling. Many e-commerce platforms offer a selection of free and paid themes to choose from.
Test your design: Once you have a rough draft of your design, test it out to see how it looks and functions on different devices, such as smartphones and tablets. Make any necessary adjustments based on your testing.
Finalize your design: After you have tested and refined your design, it's time to finalize it and launch your store. Don't be afraid to make changes as needed over time to improve the user experience and keep your store fresh and up-to-date.
Create a 404 page: Design a 404 error page for your online store, and place there a link to your home page. If you do so — when the customer will accidentally go to a page which doesn't exist anymore (if something is out of stock, for example) — you will redirect the user to look through your other goods.
Remember, the design of your online store is important for creating a professional and user-friendly experience for your customers. It's worth taking the time to plan and execute your design carefully to set your store up for success.
Add products
Prepare descriptions, photos, and pricing for your goods to add products to your online store. Some platforms may allow you to export information from Excel or CSV files, which is a great help for shops with a huge variety of goods. Other platforms allow you to add stuff only by hand, which can be helpful to come up with more creative ways to show the item. Here are some best practices to follow while adding products:
Create high-quality photos. Images are a crucial element of your product listings, as they give customers a sense of what the product looks like and how it might be used.
Pick well-lit photos that show the product from multiple angles. You can add some suggestions on how to compliment one product with another. Experiment with backgrounds, some goods will win from simple white backgrounds and some might need colors to pop up or something to understand the scale.
Stick to one structure: keep your products cards in one style with a similar set of lines you describe. This will save your time and help visitors avoid confusion while browsing several items at once. For some segments, it is also useful to add an option of comparing products.
Write detailed product descriptions: Include as much information as possible, such as size, color options, materials, and any special features. Consider including information about how the product is made or how it can be used. If possible, be creative and find your own tone of voice to make your store memorable.
Use clear and concise product titles: descriptive and keyword-rich titles that accurately reflect what the product is and what it does. Avoid jargon or technical terms that may not be familiar to all customers.
Tag your goods and create categories to make it easier for customers to find what they're looking for. Here are some common suggestions: "New", "Bestsellers", "Basic".
Offer multiple product variations: If your products come in different sizes, colors, or other options, be sure to create separate listings for each variation. Some platforms will create separate product cards automatically, but it's still better to check if the information was added correctly.
Include pricing and shipping information: Be clear and upfront about the cost of each product and any associated shipping fees.
Use customer reviews: Encourage customers to leave reviews of your products, and display it on your product pages. This can help build trust and credibility, and can also help potential customers make purchasing decisions.
Check if your products displayed in your CRM and stocks are integrated correctly.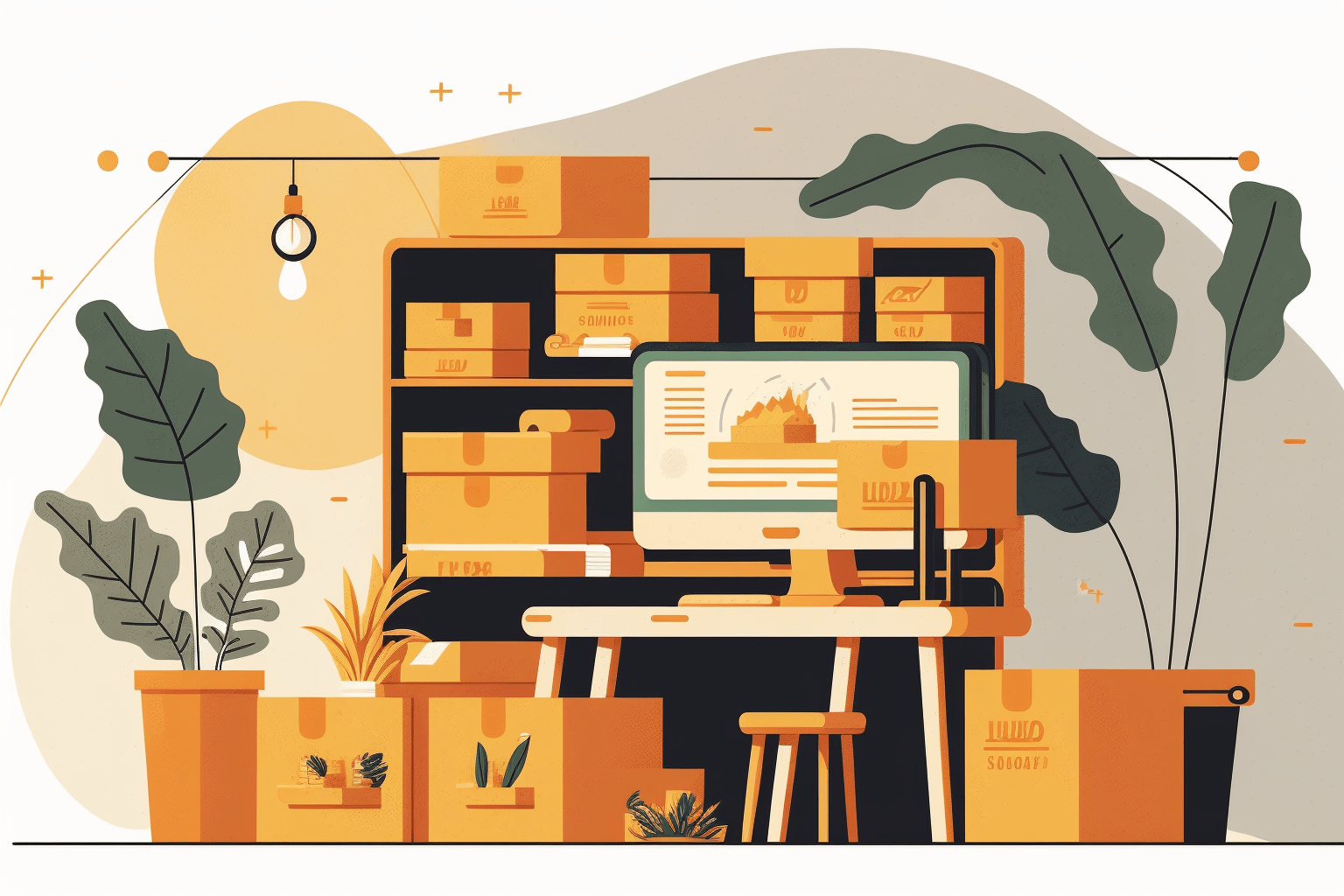 Set up shipping and taxes
Decide how you will handle shipping and taxes for your online store. It's a good practice to allow your customers to choose between several options. You also can charge more for the fastest shipping, or offer free shipping as a bonus to big orders. Keep in mind, you may need to set up accounts with carriers and tax authorities.
Determine your shipping options: Consider the types of shipping options you want to offer, such as standard, expedited, or international shipping. Think about the types of products you sell and the geographical area you serve to pick the most appropriate options.
Set shipping rates: Come up with the system to calculate shipping rates for your online store. This could be based on the weight or size of the product, the shipping destination, or a flat rate for all orders. Make sure your system is clear for the customers. To avoid typical questions, place main info at a separate page or in the FAQs section.
Choose a shipping provider: Select a shipping provider, such as USPS, UPS, or FedEx, and set up an account with them. You will need to provide your store's address and other information as part of this process. If you serve a special location, make sure your future customers have access to pick points of the company you chose.
Set up tax rates: Determine the tax rates you need to charge based on your location and the locations of your customers. You will need to create tax rules in your e-commerce platform to apply the appropriate tax rates to orders.
Test your shipping and tax setup to ensure that everything is working correctly. This will help you avoid any issues when you start taking orders. Think in advance how you will handle returns and place the policy on your website. Remember, demand often spikes during holidays, be ready to add extra attention to shipping at that time.
Update your store's shipping and tax policies: Be sure to clearly communicate your shipping and tax policies to your customers. This can help avoid any confusion or misunderstandings and ensure that customers have a positive shopping experience.
As your website will experience more traffic, you will come up with the understanding which options are the most convenient for you and your customers. Don't hesitate to add more options right after the launch — you can disable unpopular options in the future.
Get ready to launch your store
Once you finish all from the above — you are almost ready to launch. Make sure, you didn't forget these steps:
You went through the legalization process.
You know how you will wrap and deliver your goods
You are ready to receive questions from your customers via phone, email or an online chat.
There are a confidential policy and terms of use on your website.
You have a marketing strategy on how to attract new customers and up sale your old ones.
Hope these steps were useful for you. If you'd like to delegate web development and web design of your online shop — we are here to help. Contact us to receive a Project Charter for your project for free.
Want to receive more tips? Follow us on Linkedin, Facebook or Twitter
Hire Us
Let's start working on your project
inCode Ltd.
London, United Kingdom
Palliser House Second Floor,
Palliser Road, London, England, W14 9EB
Contact